Guðrún Jónasdóttir (1916 - 1997)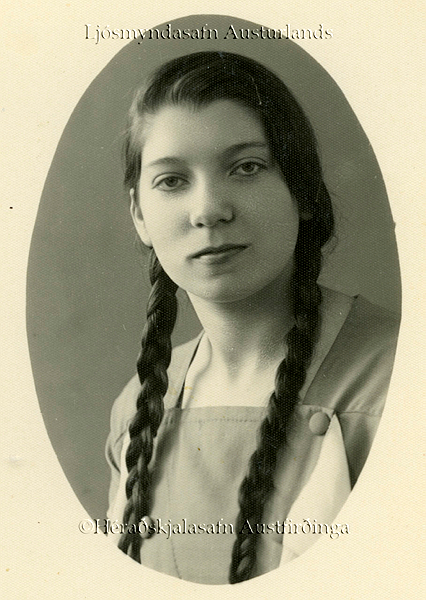 Guðrún Sigurbjörg Jónasdóttir (1916 - 1997) was an Icelandic weaving teacher born in Stuðlar, Reyðarfjörður.
storeVendorWorkLabel Guðrúnu
No products found for vendor
Guðrún Jónasdóttir (1916 - 1997)
Guðrún was born in Stuðlar, Reyðarfjörður, on December 28, 1916, and the oldest of seven children. Her parents were Valgerður Bjarnadóttir (1885 - 1974) and the farmer Jónas Pétur Bóasson (1891 - 1960).
When Guðrún was five years old, the family moved to Grímsstaðir and then Bakka in Reyðarfjörður. Jónas quit farming and started working as a labourer in Búðareyri. Guðrún enjoyed going to school and was an excellent student: first at the elementary and secondary school in Reyðarfjörður, and then the Women's College in Hallormsstaður from 1934 - 1936, when Sigrún P. Blöndal was the head of the school. In Hallormstaður, Guðrún met many of her lifelong friends. Guðrún's family was also very supportive, and she repaid them with her woven work and handcrafts.
In the late 1930s, Guðrún moved to Norway to study weaving and work in her aunt Guðrún Brunborg Bóasdóttir's household. This was challenging at times, as Guðrún considered her aunt to be very strict, treating her like a maid rather than family. This changed, however, when Guðrún left the Brunborg home. The two Guðrúns became very close and kept in contact their entire lifes. In 1938, Guðrún graduated as a weaving teacher from Den Kvinnelige Industriskole (now Statens læreskole i forming) in Oslo.
In an article Guðrún wrote about Ragnhildur Pétursdóttir, one of the founders of the Women's College in Reykjavík and long term leader of the Icelandic Women's Association, she talks about her time in Norway and coming home to Iceland:
,,Students did not have a lot of money back then, and sometimes we even struggled to pay for our next meal. One weekend at my aunt Guðrún Brunborg's house near Oslo, we had guests visiting. Among them was Lára Sigurbjörnsdóttir from Reykjavík, who was my teacher in Hallormsstaður. We talked about finances, and Lára said: ,,Just write a letter to Ragnhildur Pétursdóttir, she is on the board of the Icelandic Handcrafts Association and might be able to help you. It doesn't hurt to try!" So I did, and late in August I received a letter from Ragnhildur, offering me a teaching position and a ticket back to Iceland, which I could repay once I had an income."
Source: Fríða Björg Eðvarsdóttir, Guðrún's daughter.